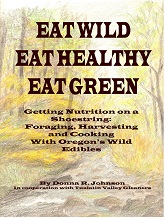 Some of you know that I try to adopt a sustainable art practice by using found objects, repurposed materials, mediums, and supplies gathered from my immediate surroundings.  This practice is one that is constantly changing as I discover and learn about what is available and useful.
Today my mother in coordination with the Tualatin Valley Gleaners  just published a book in the same spirit.  Her book, Eat Wild, Eat Healthy, Eat Green: Getting Nutrion on a Shoestring: Foraging, Harvesting, and Cooking With Oregon's Wild Edibles is about returning to the earth for our nutrition.  This book has over 500 pages of relevant and practical information that is not only a resource on where to find what wild edibles in Oregon and their historical Native American use, but a fantastic nutritional reference and  cookbook.
*The plants listed in the book actually grow from British Columbia to Northern California
You can read a sample on both Smashwords and on Amazon.  Click on the links!
I guess you could say I'm proud of my mom who wrote the book, and my sister, who is a part of the Tualatin Valley Gleaners.  Both of them have a vision that I admire.
-Enjoy
Holly Suzanne
Related articles